Forum Posts
In Self protection
Made for her soon to arrive grandchild...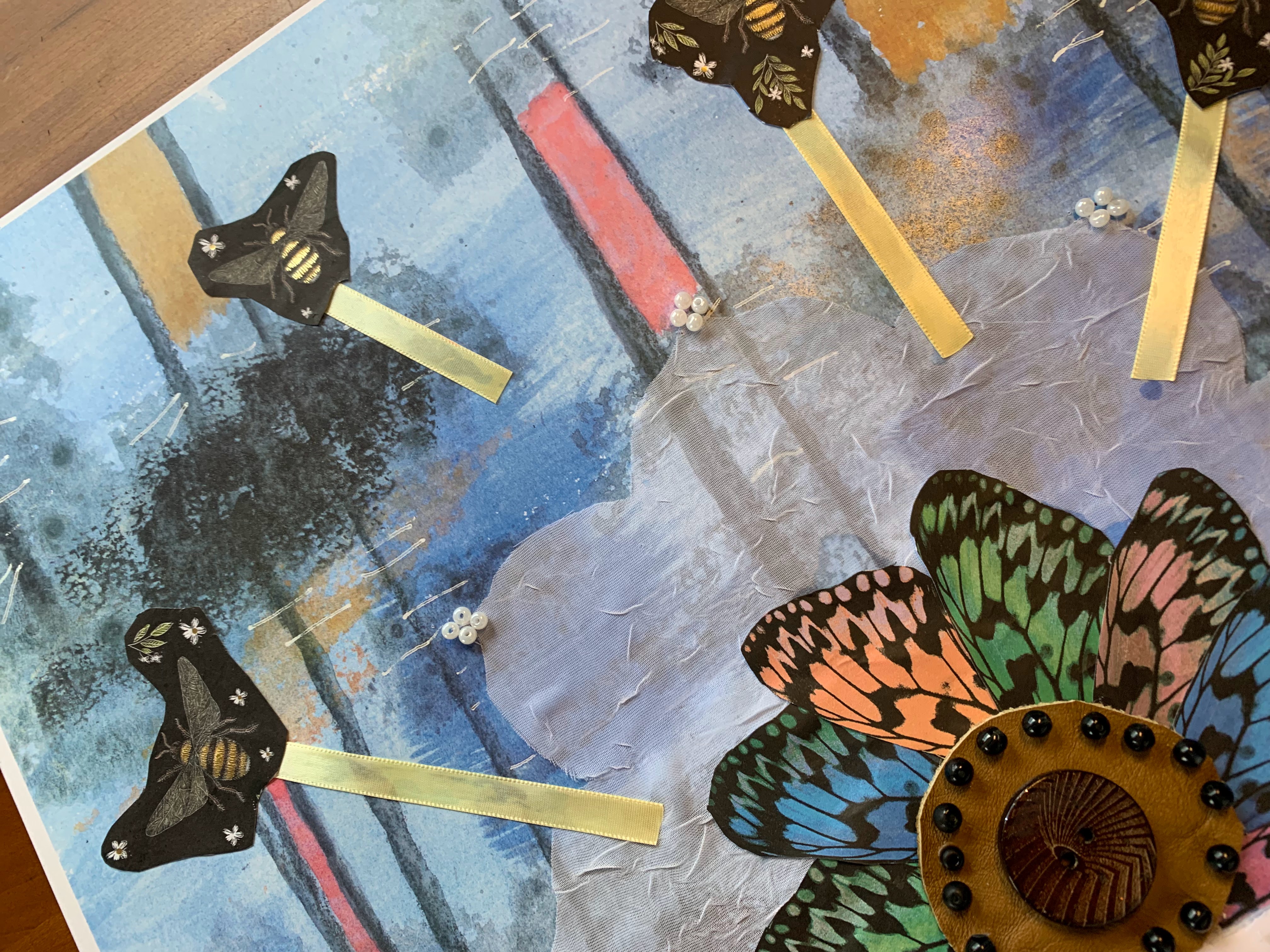 In Self protection
Meet collage and assemblage artist Joseph Cornell (1903 -1972) - a shy reclusive artist with no formal art training. An article about Cornell
In Self protection
Artwork by Joseph Cornell How do we protect this treasure we have uncovered over the last 5 months? 'Creativity is God energy flowing through us, shaped by us, like light flowing through a crystal prism' — Julia Cameron In this unit's text Cameron challenges us to face our personal addictions. She suggests we consider our relationship to food, alcohol, drugs, sex, media, and workaholism. She writes that every creative person has myriad ways to block creativity. Each of us favors one or two ways particularly toxic to us because they block us so effectively. Can we look at these escapes with soft eyes, knowing that to be human is to have vulnerabilities? The word addiction is quite loaded and can imply that there is damage and failure but I would like to encourage all of us to look at these cravings for pleasure and escape as quite natural. And in bringing awareness to them, they can be less harmful to us. These are all positive things in our life if experienced in moderation. Reflection: Write or draw your addictions. Have they changed over time? Over months? When do you most seek an escape from reality? Or to block feelings? I personally have gone through all of these cravings with intensity! In my youth it was alcohol, drugs and sex. Now it is more food and media. A therapist once shared with me that life is really all about learning to live with pain. The more tolerance for discomfort we have, the less we try to numb ourselves. This discussion also brings up an interesting image of the wild, tortured artist or writer. I do believe that there is inherent vulnerability in being creative and the willingness to live with chaos and paradox which can feel very challenging at times. We all go through periods of wanting security and reassurance. We also live in a culture that does not support or encourage the creative life so, the risks are increased. 'Saying no can be the ultimate self care.' -Claudia Black Our relationship to our work life is an important arena of reflection, as it takes up a lot of hours in our lives. The emotional quality of our work relationship may be more important than the number of hours spent working. That dazed feeling of shutting down after a challenging day while simultaneously preparing emotionally for another one tomorrow is bleak and familiar. Cameron suggests creating boundaries around work and setting a 'bottom line'. For me, a boundary around work includes making sure I make time for walking with my dogs, meditation, my own art making, and eating well. A bottom line for a day could be something like 'I will be emotionally present at dinner at 6:30 pm'. Reflection: Practice some boundaries and bottom lines with work or your week's schedule. What might that look like for you? Choose one to implement this coming week. And if you like take this Workaholism Quiz! At the end of the day, I write down little notes about my day in a date book and it offers me a moment of reflection about how my day was spent. I always add a nature observation from the day to encourage mindfulness and awareness of the surrounding world, no matter what else is needing my attention. In any creative life there are dry seasons. These droughts appear from nowhere and stretch to the horizon like a Death Valley vista. Life loses its sweetness; or work feels mechanical, empty, forced. We feel we have nothing to say, and we are tempted to say nothing. These are the times when the morning pages are most difficult and most valuable. — Julia Cameron Let's clarify the difference between a creative block and a creative drought. I use a drought period to rest, to explore, to wait for the next thing to come through. I keep making without expectation, trusting that something will appear on the horizon. I am sitting still or slowly moving in the right direction. It's an in-between feeling. Creative block feels very different. I notice myself retracing my steps and spinning my wheels. It's a misaligned feeling—shifty, entangled, confused, irritable, distrusting. I might be managing other people's ideas of who I am and what I should be doing. I find myself doing activities that don't feel right. My energy is pulled in competing directions. Begin to feel into these differences, as we are more vulnerable to addictions and depressions during a creative block. Creative blocks can occur in all parts of life too, like work and relationships. 'Real learning comes about when the competitive spirit has ceased.' — J. Krishnamurti When we compete, we're required to look at what others are doing instead of keeping the focus on ourselves. It's a tricky thing that can trigger lots of complex emotions—jealousy, pride, confusion, envy, anger. In this world of social media 'likes', we are encouraged to make snap judgments about everything and everyone but truth lies in the nuances and subtleties. Moved out of the shadows, competition can serve as a way of seeing possibility in the world. If them, why not me? It can support the exploration of useful emotions—hopefulness, affinity, clarity, compassion, joy. When approached with grace and detachment, competition can help us grow and stretch further. Cameron talks about going within, instead of looking without, for encouragement. I have struggled with this need for outside approval in my creative life. I spend so much time on my art making which is of consequence to my family both financially and emotionally and am afraid this is too much to ask if I am not 'a great artist'. But I know how important the act of creating is for my emotional and spiritual health. And I have inspired my children to follow their passions no matter what! We must set our own course and walk our own path. 'If the demand to be original still troubles you, remember this: each of us is our own country, an interesting place to visit. It is the accurate mapping out of our creative interests that invites the term original. We are the origin of our art, its homeland. Viewed this way, originality is the process of remaining true to ourselves.' — Julia Cameron Art Project: Have you chosen a final project to work on during the month of March? Perhaps share your idea with the group as a way to stay accountable and to inspire each other. Sculpture: Do you have some clay in your house? Or some buttons, wood, or other found objects? Try going three dimensional this month. You can use a glue gun to piece objects together. Bring an object into being. Maybe a figure or an animal to sit on your shelf next to you. A physical manifestation of your creative self! Art as Magic: Draw or paint an object that will assist you in protecting your creative self. Perhaps a cloak to protect you from outside judgment. Or a special hat to put on to connect you with the universal flow. Or a chair that you can imagine is always waiting for you to step away from other obligations and create. By making this object on the page, you bring it into your consciousness and can call on it anytime you need to.